Ensure The Best ROI
Holding a live learning event is a significant investment, both in actual expenses as well as in time taken from mission critical work.
It's important to ensure the best ROI on that investment by ensuring that knowledge transfer happens at an optimal rate.
Our team of planners understand what physical factors influence an adult's ability to learn. We use that knowledge to find the best available facilities for your event and budget.  Studies over the years have shown that the physical environment can affect an adults ability to learn by as much as 25%.  
Our learning support specialists understand this. When looking for venues we ask the types of questions that enable us to evaluate based on the effect on the learner's experience.  And we don't stop there – catering, audio visual – it all plays an important part in the success of your learning roll out.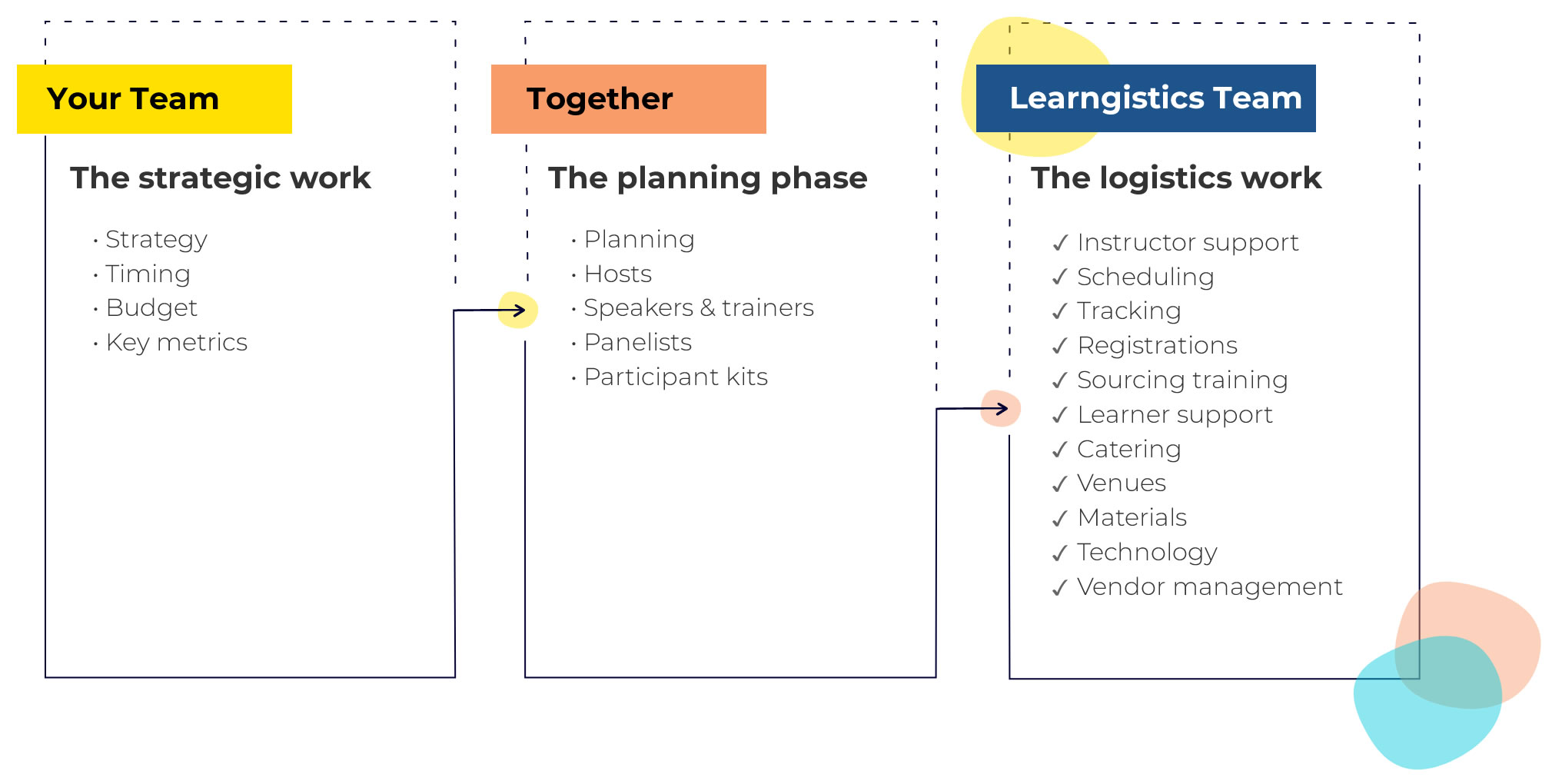 What We Do
Complete Event Planning
Meeting room booking

Guest Room Booking and Management – IATA number – commission from hotel

Registration Software

Participant Registration Desk and Support

A/V Support and Provision

Full Catering Management and Support

On site Learning Support Specialists

Streamlined vendor management
Facility Booking
Making certain the venue is suitable for learning

Knowing what questions to ask

Patented "Learner First" venue evaluation methodology

Understanding of hidden costs and levies

Nationwide Network of Facilities

Knowledge of Local Facilities

Comprehensive Database of Unique Learning Spaces

Streamlined process for multiple locations

Understand and can easily provide the variety of facility insurance requirements and certificates.

Manage external A/V 

Manage External Catering

Partnerships with international facility brokering companies extend our reach worldwide
Mobile and Remote Learning Spaces
Facility research and booking

Making certain the venue is suitable for learning

Knowing what questions to ask

Patented "Learner First" venue evaluation methodology

Understanding of hidden costs and levies

Everything you need for a learning space

Mobile Computer labs

Audio/Visual

Internet

Event equipment rentals

Full Catering Management and Support

Contract Management

On site Learning Support Specialists

Streamlined vendor management

Short or Long Term – a day, a week, a month, a year
✓
Experienced Team
Our planners have worked on 100's of learning events.  They understand what it really takes to improve the learner experience.
✓
Projects of Any Size
Whether its a 2 hour leadership program for 15 people or creating 200 temporary computer labs across the country. We will help.
Schedule a Call
Capturing the magic…

"In March, several of my clients were really struggling. They had cornerstone marketing events disrupted by the pandemic. Incredibly quickly, Louis helped them to reimagine their conference, explore the possibilities of how a virtual event could capture the magic of an in-person event, and he showed them a path forward." – Jeremy Miller, Sticky Branding

It's all about delight!

"The Learngistics team consistently delight their customers with world class service. They have been dedicated to supporting corporate learning through live events and virtual presentations for many years. Their experience brings an extra element of innovation to every project. Whether working with partners, suppliers, or clients, they always go the extra mile." – Mark Ellwood, Get More Done

So easy to work with …

I have been contracting LMT for several years now, primarily for sourcing venues to hold training. The service was always amazing and the team so easy to work with. It therefore came as no surprise that when our country was stopped still due to COVID-19, Louis and team were able to pivot and adapt so quickly. I now contract them for all my production needs as our training has moved to the virtual space. They are able to put our Presenters at ease with a new medium … folks who are used to standing in front of a class … and take away all production related worries, leaving them to focus on delivering material to our learners. Service provision in both English and French, across all times zones, has been awesome. It's easy to see that as a company, they put great priority on being efficient and effective … booking and billing are as easy as actual classroom time. A pleasure to work with AND recommend. – Jane Bradbrook, Program Manager, MFD and PFS, RBC

We love giving pleasure …

"Learngistics team is always quick to respond and help, even at the 11th hour! They are a pleasure to work with and have been a great help in assisting with the virtual production of our larger online events." – Shelby Gobbo, Go Roundtable

We're the go-to team

When we launched I4PL's Certificate Programs, we needed a place to run our courses. I contacted Louis, and it was the best decision I could have made. He and the team are dedicated to helping us succeed. They're incredibly flexible and work with us and for us. Whether it's rooms in Toronto or Ottawa, they're my go to team. – Steve Blane, Program Director, I4PL Certificate Programs
Trusted by leading Brands
Get support for your corporate learning.